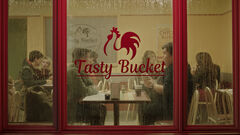 Tasty Bucket is a fast-food restaurant in Kitimat, Canada. It serves dozens, if not hundreds, of residences per day. Jared usee the Tasty Bucket to serve his drug clients.
Series
[
]
In Episode 1, Jared's job as a cashier and counter worker allows him to give his select clientele "extra salty fries". This phrase is a code for requesting drugs made by Jared. He then places three pink pills in with their order and pockets the payment for the pills. His average day is interrupted by Richie, an angry drug dealer who demands payment for the drugs that Jared's mother took. A few days later, Maggie visits Jared at work and ignores his request for her to leave. He reluctantly gives her a coffee which she takes to the corner. She talks to herself until a man enters resembling Wade. Maggie attacks the man with a mop and pins him against the wall. Jared rushes over alongside a manager and they remove Maggie from the man, who isn't Wade but an innocent customer. Maggie swears he was someone else and leaves. The manager, Tony, pulls Jared aside and reprimands him for his mother's behavior. This isn't the first time Maggie has brought her crazy to the Tasty Bucket. He can't risk it happening again and fires Jared.
Employees
[
]
Appearances
[
]
Trivia
[
]
The Tasty Bucket is presumably the only fast food restaurant in Kitimat.
Gallery
[
]